We are thrilled to announce the launch of our redesigned website. This revamped platform not only showcases our state-of-the-art contract manufacturing facility and private labelling range, but it also aims to optimise your browsing experience. At Activ'Inside, we are dedicated to providing our clients with the latest information and innovative solutions, and our new website truly reflects this commitment to excellence.
Showcasing our State-of-the-Art Contract Manufacturing Facility
The motivation behind our website redesign can be attributed several key factors. First and foremost, we are proud to unveil our new contract manufacturing facility, and it is imperative that our clients are aware of this significant milestone in our journey. To highlight this exciting development, we have introduced new pages, such as "Our Formulation Solutions" featuring our Fast Track Formulation tool, "Our Contract Manufacturing Services," and "Our Private Labelling Solutions." These pages detail the innovative solutions available to those who choose Activ'inside for the creation of their food supplement.

Supporting Clients in Bringing Their Projects to Life
Another reason for revamping our website is to aid our clients in bringing their project into fruition and to generate opportunities. To this end, we have introduced the new category "Your Project," which encompasses comprehensive and relevant information to cater to the specific needs of our customers that are just setting out on their nutraceutical creation journey and are seeking advice as to the best way to achieve their goals. This series features our advice on choosing your ingredient, formulating your food supplement, how to choose a contract manufacturer or private label supplement manufacturer.

Improved Navigation and Access to Information
Our homepage features hub categories and product carousels, ensuring easy navigation and access to the information you seek. Furthermore, we have introduced product catalogues with filters and search engines, enabling you to explore our wide range of ingredients and private labels effortlessly. Product pages now resemble an e-commerce format, allowing you to peruse detailed product descriptions and easily request additional information. Throughout this transformation, we have retained Activ'Inside's visual identity, which we believe to be clear, refined, and reflective of our brand.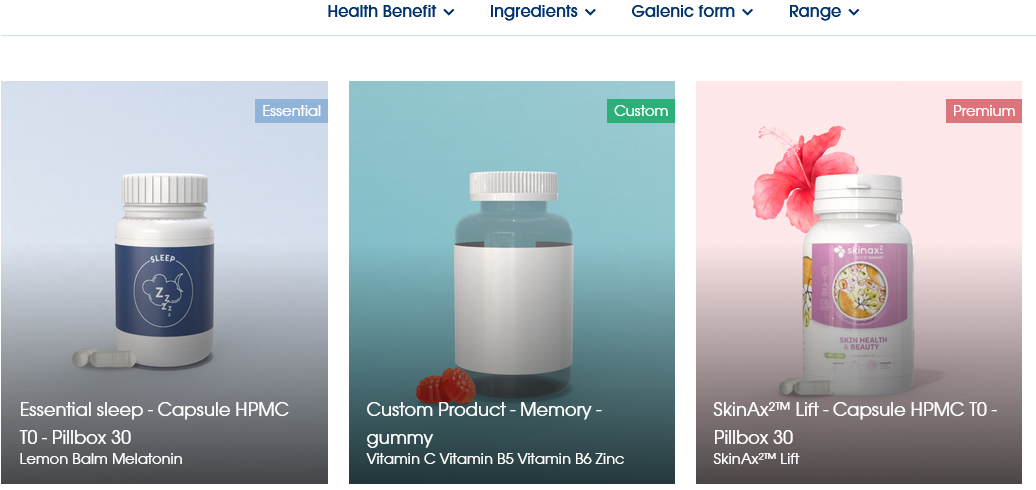 Elevating Brand Awareness

We aim to elevate our brand awareness and highlight our expertise as a comprehensive dietary supplement manufacturer. Our strategy to achieve this revolves around content creation, as we have tripled the number of pages on our website, currently boasting 105 pages compared to the previous version's 34. This increased content allows us to showcase our capabilities as both an ingredient supplier and a nutraceutical supplement contract manufacturer and provide valuable insights into the dietary supplement industry.
Fostering Increased Engagement and Lasting Partnerships

We strive to foster increased engagement across all our areas of expertise. Our ultimate objective is to establish lasting partnerships with our clients. To achieve this, we have invested in providing an exceptional user experience with our easy to use, product catalogues and intuitive design. Furthermore, we have placed more contact forms on each page of interest, ensuring that your inquiries and requests are promptly addressed. Please note that to access certain resources such as booklets, we now require contact details to better serve your needs and establish meaningful connections.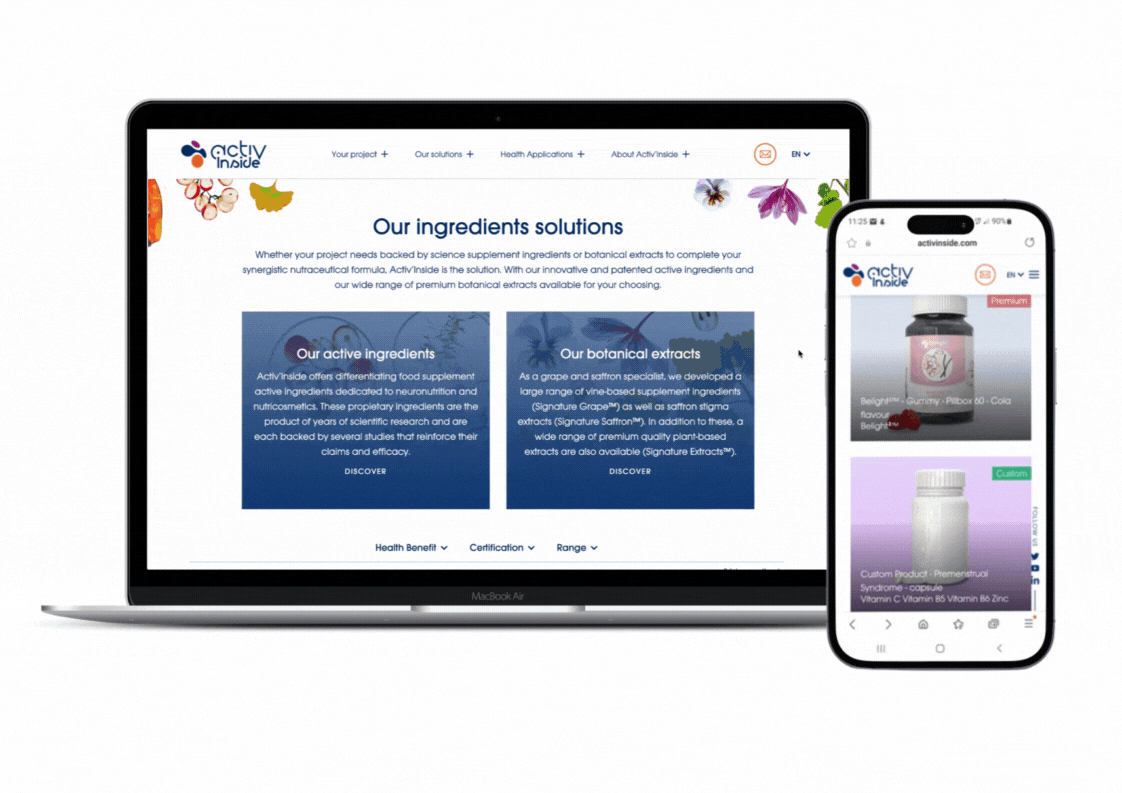 As we embark on this exciting new chapter with our redesigned website, we invite you to explore the plethora of valuable resources and information at your disposal. Stay tuned for further updates as we continue to unveil more pages aligned with the launch of our supplements factory. At Activ'Inside, we remain steadfast in our commitment to driving innovation, delivering superior quality products and services, and empowering our customers.